David DiCerto
David DiCerto served as film reviewer for the Office for Film & Broadcasting of the U.S. Conference of Catholic Bishops, where he covered the film and television industries for Catholic News Service, an international news organization with an audience of more than eight million. His work has been published in Catholic papers across the nation and overseas.
David has represented the bishops at the Motion Picture Association of America's (MPAA) film-rating appeals in Los Angeles and has reported on the film and television industries to the bishops' communications committee in Washington. He has regularly provided media commentary on Catholic Radio Weekly and has been interviewed by SIRIUS/XM's Catholic Channel, NPR and The Wall Street Journal.
David previously worked in the film industry, serving as an assistant to former New York City Film Commissioner Richard Brick during Mr. Brick's tenure as producer of several Woody Allen films. He also served as a consultant on the PBS/Frontline documentary The Millennial Pope by Emmy Award-winning filmmaker Helen Whitney.
Born and raised in New York City, David attended the Archdiocese of New York's minor seminary before studying film at Fordham. He currently lives in Manhattan with his wife Patricia and son Brogan.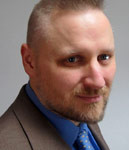 Steven D. Greydanus
Steven D. Greydanus is the film critic for the National Catholic Register and Decent Films, the online home for his film writing. He also writes for Christianity Today and for various print publications, and is a regular guest on several radio shows.
Steven has a BFA in Media Arts from the School of Visual Arts in New York, and an MA in Religious Studies from St. Charles Borromeo Seminary in Overbrook, Pa. He is a contributor to the New Catholic Encyclopedia, having written the article "The Church and Film."
He lives in New Jersey with his wife Suzanne and their seven children.
Fr. Robert Lauder

Father Robert Lauder, the author of twelve books and a professor of philosophy at St. John's, has long had an avocation for watching and writing about films, theater and literature. Considered an authority on the films of the Swedish author/director Ingmar Bergman, Fr. Lauder has an international reputation as a film analyst.
His essays on film have appeared in The Sunday Arts and Leisure Section of The New York Times, America magazine, Commonweal magazine and in his column in The Tablet and Long Island Catholic. He has also contributed essays to books about film.
In the popular Friday Film Festival program at Immaculate Conception Center in Douglaston, Fr. Lauder has shown more than 200 films, all classics or near classics. Knowing that many still think of film as nothing more than escapist entertainment, Fr. Lauder believes that film has tremendous potential to influence people deeply, at least as much potential as literature, theater and television. In fact, he believes that film, like other art forms, can be a mediator of God's grace.
This priest-philosopher is fond of saying, "One film will not change anyone's life, but a constant diet of the same type of film has to affect people."
Father Lauder thinks that great films can raise consciousness and challenge conscience. In recent years he has tried to interest Catholic formation programs to include some study of film in their educational efforts.