Dr. Steven Garner was born and raised in Brooklyn in a family of educators. His mother was a teacher and his father, Dr. Harvey Garner, was chancellor of the New York City public school system. Dr. Garner served in the U.S. Air Force as a captain and in the U.S. Army reserves as a major before attending Chicago Medical School. He was then a resident at Mount Sinai Hospital for Radiology. He has a board certification in emergency medicine and radiology.
Dr. Garner is currently the chairman of radiology at New York Methodist Hospital. Prior to that he was chief medical officer at St. Vincent's Catholic Medical Centers. He was also head of the disaster committee at St. Vincent's, and it was during his tenure that the 9/11 attacks occurred. Dr. Garner coordinated the medical response for the system and was also a part of the citywide committee that dealt with the disaster and subsequent plans for a repeat disaster of nuclear, biological and chemical terrorism on both a local and national level.
Dr. Garner frequently appear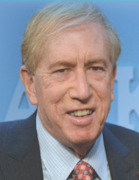 s on major television networks, including Fox News, where he is a guest analyst. He has been the host of Ask the Doctor since its inception. He also writes the Ask the Doctor column every week in The Tablet.
In addition to his many responsibilities, Dr. Garner is involved in numerous national organizations including: The American College of Health Care Executives, The American College of Radiology and The American Heart Association. He is also a fellow of The American Academy of Emergency Medicine.
On a more personal note, Dr. Garner is a life-long Brooklynite; he currently lives in Prospect Park South with his wife, Anne, a psychiatrist. His daughters, Hope and Eve, also practice medicine. Hope is an ophthalmology resident at St. Luke's Roosevelt Hospital and is married to Dr. Daniel Stephens, a surgeon; Eve is radiology resident at Downstate Medical Center.
Dr. Garner plays the cello, piano and organ and can frequently be seen jogging in Prospect Park with his wife. His favorite dining-out experience is Sunday Brunch at the River Cafe, accompanied by his wife and Msgr. Bennett.