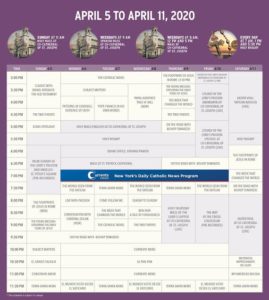 Click here to view the schedule for the week of 4/5
DAILY MASS FROM THE CO-CATHEDRAL OF ST. JOSEPH
LIVE from the Co-Cathedral of St. Joseph. Tune in weekdays at 8 AM for the Mass in English and at 9 AM for the Mass in Spanish (La Santa Misa).
HOLY MASS FROM THE CATHEDRAL BASILICA OF ST. JAMES
LIVE from the Cathedral Basilica of St. James. Tune in weekdays at 12 noon (encored at 5 PM) and Sundays at 11 AM.
HISPANIC BLOCK
Every night at 10:30 PM
NET TV presents the new primetime Hispanic Block, featuring original programming such as Dios Nunca Duerme (premieres Tuesday) and conversation that reflect the diversity of the community.
EL MUNDO VISTO DESDE EL VATICANO
Weekly message of our Holy Father Pope Francis to pilgrims from around the world (en Espanol).
AL PAN, PAN
El padre Tomás del Valle y Jorge I. Domínguez-López inician dedicado a el 100 aniversario de las apariciones de la Virgen de Fátima.
DONDE DIOS LLORA
The Spanish-language version of the weekly program "Where God Weeps" shows the suffering of Christians today, in places where the faithful cannot live their faithfully due to political, social and economic restrictions. The program presents bishops, priests, missionaries, and laity who testify to the tears and needs of the Church while giving testimony of Faith and Hope in the Lord.