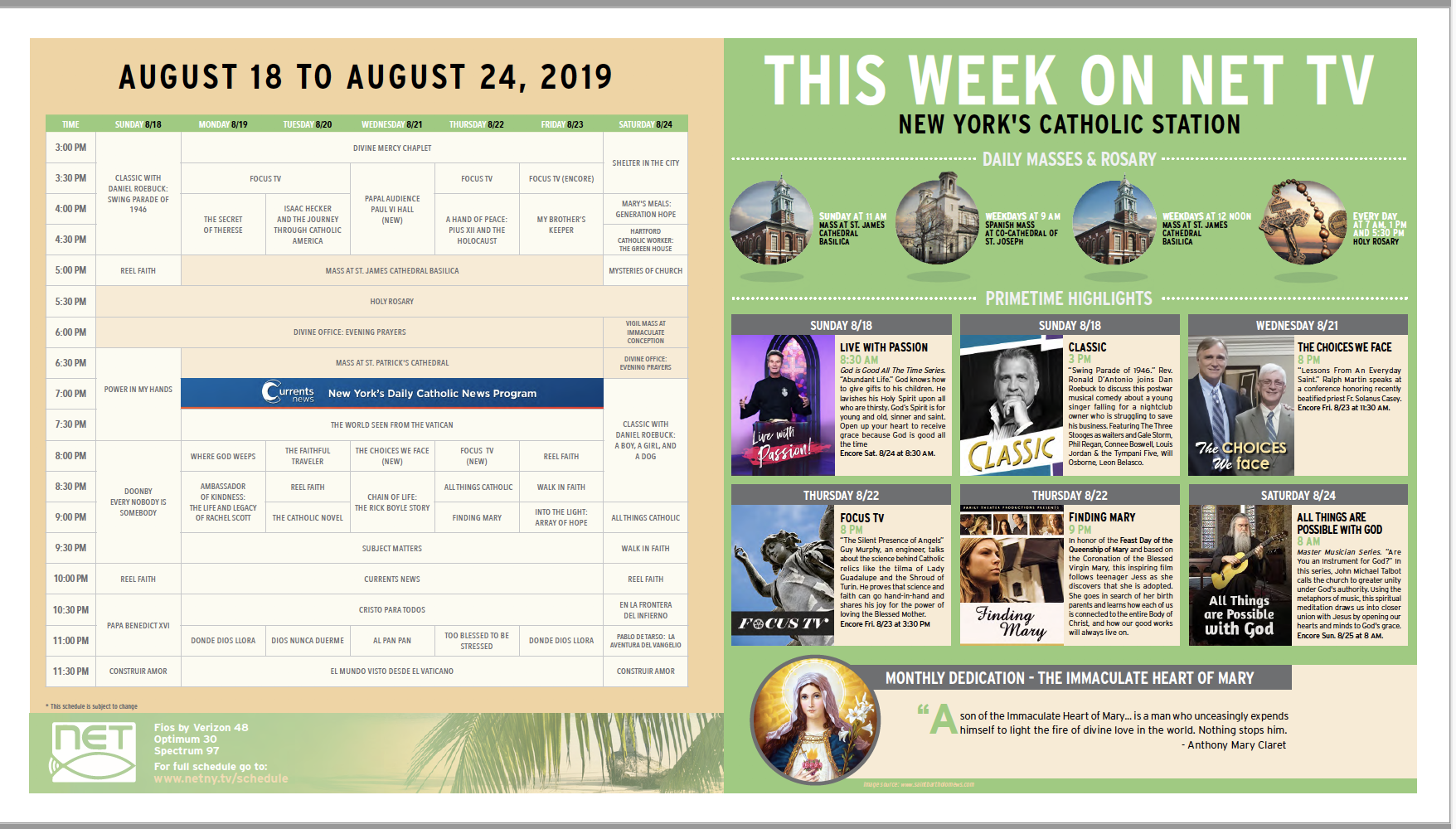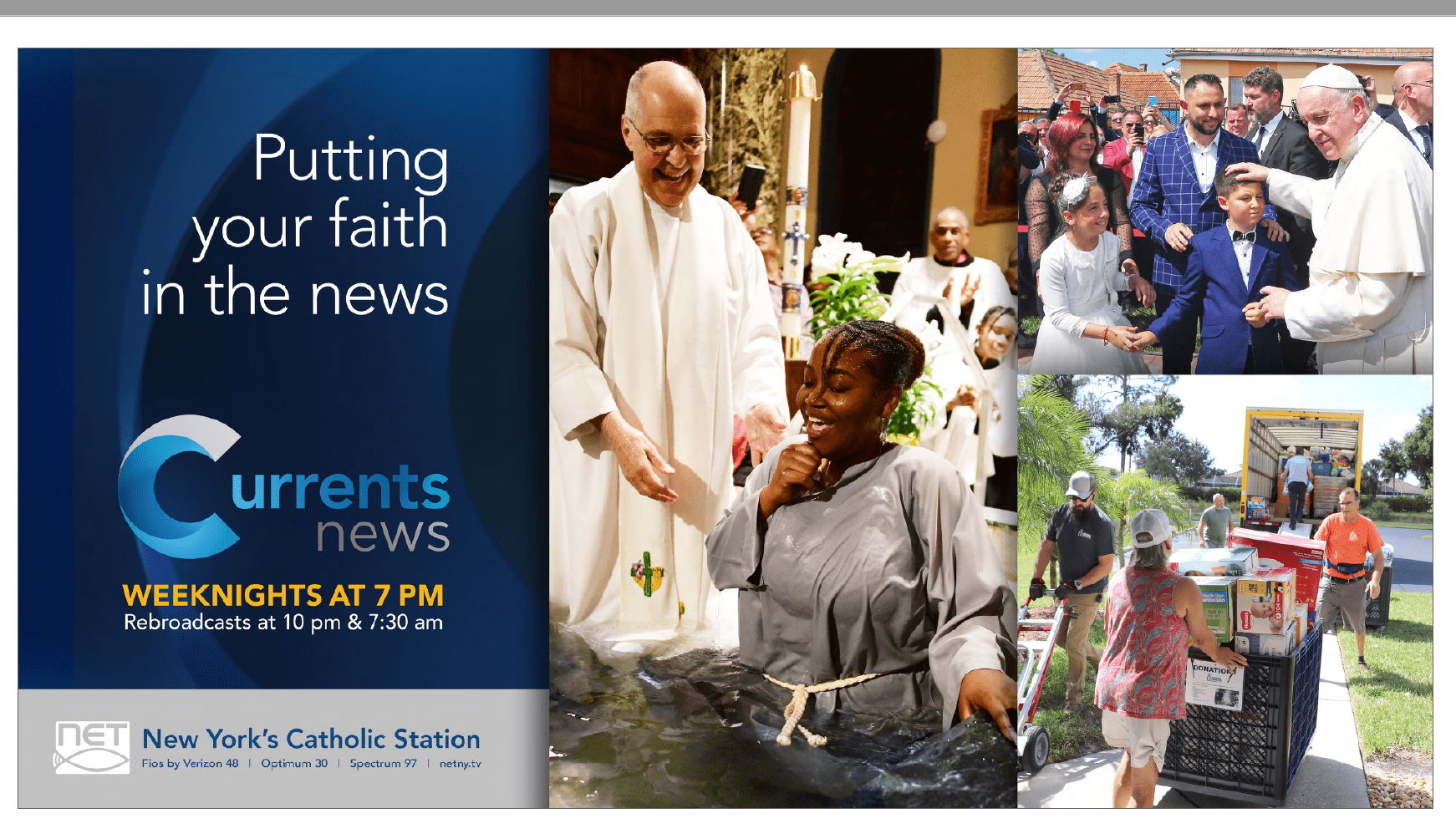 Click here to view the schedule for the week of 8/18
Click here to view the overnight schedule for the week of 8/19
DAILY MASS FROM THE CO-CATHEDRAL OF ST. JOSEPH
LIVE from the Co-Cathedral of St. Joseph. Tune in weekdays at 8 AM for the Mass in English and at 9 AM for the Mass in Spanish (La Santa Misa).
HOLY MASS FROM THE CATHEDRAL BASILICA OF ST. JAMES
LIVE from the Cathedral Basilica of St. James. Tune in weekdays at 12 noon (encored at 5 PM) and Sundays at 11 AM.
LIVE FROM THE BASILICA OF THE NATIONAL SHRINE
The Solemn Installation of Most Rev. Wilton Gregory as 7th Archbishop of Washington that will take place on Tuesday, May 21 at 1:30pm from the Basilica's Great Upper Church. Archbishop Gregory will be installed by Archbishop Christophe Pierre, Apostolic Nuncio to the United States.
PAPAL AUDIENCE
Wednesdays at 2 PM
Weekly message of our Holy Father Pope Francis to pilgrims from around the world.
HISPANIC BLOCK
Every night at 10:30 PM
NET TV presents the new primetime Hispanic Block, featuring original programming such as Dios Nunca Duerme (premieres Tuesday) and conversation that reflect the diversity of the community.
EL MUNDO VISTO DESDE EL VATICANO
Weekly message of our Holy Father Pope Francis to pilgrims from around the world (en Espanol).
CRISTO PARA TODOS
Cristo Para Todos es un programa católico de televisión producido por el Departamento de Radio y Televisión de la Diócesis de Trenton en New Jersey.  El equipo del programa es un ejemplo ideal para compartir el mensaje del programa…que Cristo es para todos.
AL PAN, PAN
El padre Tomás del Valle y Jorge I. Domínguez-López inician dedicado a el 100 aniversario de las apariciones de la Virgen de Fátima.
DONDE DIOS LLORA
The Spanish-language version of the weekly program "Where God Weeps" shows the suffering of Christians today, in places where the faithful cannot live their faith fully due to political, social and economic restrictions. The program presents bishops, priests, missionaries and laity who testify to the tears and needs of the Church, while giving testimony of Faith and Hope in the Lord.
REDESCUBRIR
Is it possible that the root of the problems in our lives, in our families, and in our society is really a crisis of faith? This is the first of two programs that not only touches on what it really means to believe but also tries to respond to questions and doubts about the relationship between faith and reason.
WHERE GOD WEEPS (NEW)
Monday, June 17th at 8 PM
War on Drugs in the Philippines Mark Riedemann interviews Archbishop Socrates B. Villegas about a letter that the Bishops Conference of the Philippines published on the war on drugs.
THE CHOICES WE FACE (NEW)
Wednesday, June 19th at 8 PM
Rooted in Christ Sr. Miriam James Heidland, a victim of child sex abuse, shares stories of how we can find our security in our identity in Christ.
ALL THINGS CATHOLIC (NEW)
Thursday, June 20th at 8:30 PM
Season 5 Episode 8: "Senior Citizens" Joe Estevez interviews some of the residents and caregivers at a 13-acre senior care residence run by the Carmelite Sisters in Santa Teresita.
REEL FAITH (NEW)
Friday, June 21st at 8 PM
Summer Season 2019 Episode 4 David and Steven review Godzilla: King of the Monsters, Rocketman, and The Secret Life of Pets 2. The Movie with a Message is "A Tale of Two Cities".
WALK IN FAITH  
Friday, June 21st at 8:30 PM
Season 4 Episode 13: Building The Benedict Option: Leah Libreseco Craig Syracusa talks with author Leah Libreseco about her new book, "Building The Benedict Option" and the open invitation to her home for people.