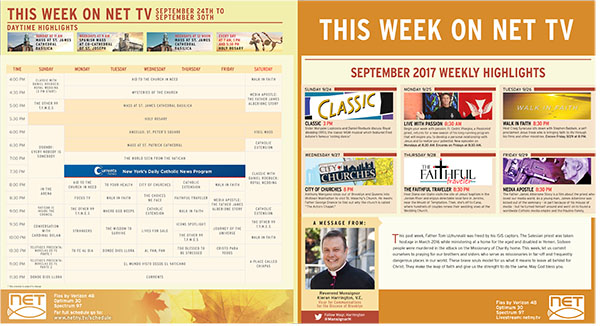 Click here for a grid view of the daily schedule for the week of 9/24/17
Click here for a grid view of the overnight schedule for the week of 9/24/17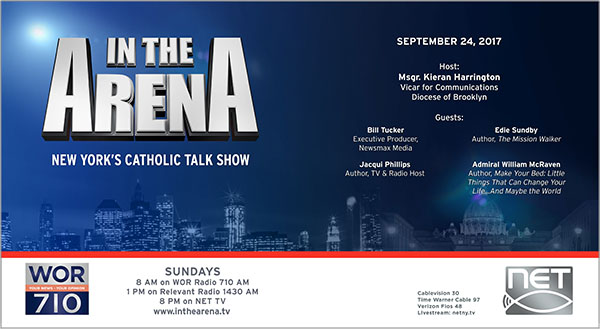 DAILY MASS FROM THE CO-CATHEDRAL OF ST. JOSEPH
LIVE from the Co-Cathedral of St. Joseph. Tune in weekdays at 8 AM for the Mass in English and at 9 AM for the Mass in Spanish (La Santa Misa).
HOLY MASS FROM THE CATHEDRAL BASILICA OF ST. JAMES
LIVE from the Cathedral Basilica of St. James. Tune in weekdays at 12 noon (encored at 5 PM) and Sundays at 11 AM.
HOLY ROSARY
On NET TV three times a day at 7 AM, 1 PM and 5:30 PM.
PAPAL AUDIENCE
Wednesdays at 2 PM
Weekly message of our Holy Father Pope Francis to pilgrims from around the world.
TeleMATER Italian Programming
Saturdays and Sundays at 12 Noon-1 PM
TeleMATER – the Television of the Mother – is based in New York City, and with a mission in harmony with the apostolic mission of the Catholic Church, it aims to be the Catholic Television of the Italians in America. Now on NET TV, watch TeleMATER's Italian programs every Saturday and Sunday from 12 Noon – 1 PM. The Sunday's hour is dedicated to the Angelus and Holy Mass in Italian, celebrated from Our Lady of Pompeii Church in Greenwich Village, NYC.
HISPANIC BLOCK
Every night at 10:30 PM
NET TV presents the new primetime Hispanic Block, featuring original programming such as Dios Nunca Duerme (premieres Tuesday) and conversation that reflect the diversity of the community.
EL MUNDO VISTO DESDE EL VATICANO
Weekly message of our Holy Father Pope Francis to pilgrims from around the world (en Espanol).
CRISTO PARA TODOS
Cristo Para Todos es un programa católico de televisión producido por el Departamento de Radio y Televisión de la Diócesis de Trenton en New Jersey.  El equipo del programa es un ejemplo ideal para compartir el mensaje del programa…que Cristo es para todos.
DONDE DIOS LLORA
The Spanish-language version of the weekly program "Where God Weeps" shows the suffering of Christians today, in places where the faithful cannot live their faith fully due to political, social and economic restrictions. The program presents bishops, priests, missionaries and laity who testify to the tears and needs of the Church, while giving testimony of Faith and Hope in the Lord.
REDESCUBRIR
Is it possible that the root of the problems in our lives, in our families, and in our society is really a crisis of faith? This is the first of two programs that not only touches on what it really means to believe but also tries to respond to questions and doubts about the relationship between faith and reason.
REALFAITH TV
Every Saturday at 8:30 AM and 9:00 AM
From the Diocese of Trenton, Realfaith TV is a peer produced and faith driven teen talk show discussing modern issues facing young people.

LIVE WITH PASSION
Monday, September 25 at 8:30 AM
Begin your week with passion. Fr. Cedric Pisegna, a Passionist priest, returns for a new season of his long-running program that will inspire you to develop a personal relationship with Jesus and to realize your potential. New episodes on Mondays at 8:30 AM. Encores on Fridays at 8:30 AM.

AID TO THE CHURCH IN NEED
Monday, September 25 at 8:00 PM
Pakistan lies in South Asia and is bordered by Iran, Afghanistan, China and India. The country achieved independence in 1947 following the end of British colonial rule in India. The founding father, Mohammed Ali Jinnah, envisioned a country – although based on Islam – was to be simultaneously pluralistic, accepting believers of other faiths: Hindus, Sikhs and Christians. Today ninety-seven-percent of this society of over 180-million people is Muslim

FOCUS TV
Monday. September 25 at 8:30 PM
Renown speaker and best selling author John LaBriola was recently filmed at Rosa Mystica House of Prayer in Edmeston, NY. John shares with us how we can have hope and healing amidst the battle with Satan.
THE FAITHFUL TRAVELER
Thursday, September 28 at 8:30 PM 
Host Diana von Glahn visits the site of Jesus' baptism in the Jordan River and enjoys delectable local fare in Jericho, near the Mount of Temptation. Then, she's off to Cana, where hundreds of couples renew their wedding vows at the Wedding Church.
MASS OF SOLIDARITY AND UNITY FOR MEXICO AT THE CO- CATHEDRAL OF ST. JOSEPH
Friday, September 29 at 7:00 PM
The Diocese of Brooklyn is holding a special mass for solidarity and unity for the people of Mexico.
MEDIA APOSTLE
Friday, September 29 at 8:30 PM
The Father James Alberione Story is a film about the priest who loved our media world. As a young man, James Alberione was kicked out of the seminary – in part because of his misuse of media – but he turned himself around and went on to found a worldwide Catholic media empire and the Pauline Family.