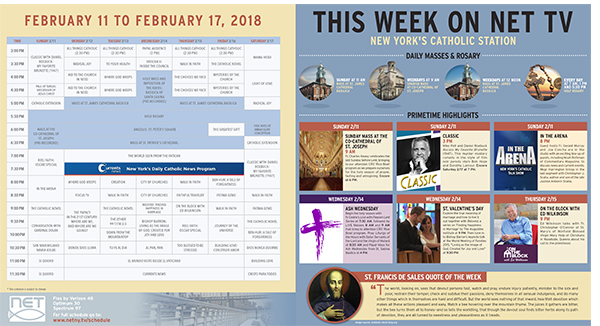 Click here for a grid view of the daily schedule for the week of 2/11/17
Click here for a grid view of the overnight schedule for the week of 2/11/17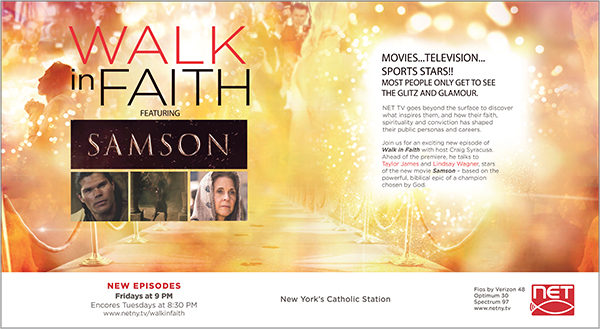 DAILY MASS FROM THE CO-CATHEDRAL OF ST. JOSEPH
LIVE from the Co-Cathedral of St. Joseph. Tune in weekdays at 8 AM for the Mass in English and at 9 AM for the Mass in Spanish (La Santa Misa).
HOLY MASS FROM THE CATHEDRAL BASILICA OF ST. JAMES
LIVE from the Cathedral Basilica of St. James. Tune in weekdays at 12 noon (encored at 5 PM) and Sundays at 11 AM.
HOLY ROSARY
On NET TV three times a day at 7 AM, 1 PM and 5:30 PM.
PAPAL AUDIENCE
Wednesdays at 2 PM
Weekly message of our Holy Father Pope Francis to pilgrims from around the world.
TeleMATER Italian Programming
Saturdays and Sundays at 12 Noon-1 PM
TeleMATER – the Television of the Mother – is based in New York City, and with a mission in harmony with the apostolic mission of the Catholic Church, it aims to be the Catholic Television of the Italians in America. Now on NET TV, watch TeleMATER's Italian programs every Saturday and Sunday from 12 Noon – 1 PM. The Sunday's hour is dedicated to the Angelus and Holy Mass in Italian, celebrated from Our Lady of Pompeii Church in Greenwich Village, NYC.
HISPANIC BLOCK
Every night at 10:30 PM
NET TV presents the new primetime Hispanic Block, featuring original programming such as Dios Nunca Duerme (premieres Tuesday) and conversation that reflect the diversity of the community.
EL MUNDO VISTO DESDE EL VATICANO
Weekly message of our Holy Father Pope Francis to pilgrims from around the world (en Espanol).
CRISTO PARA TODOS
Cristo Para Todos es un programa católico de televisión producido por el Departamento de Radio y Televisión de la Diócesis de Trenton en New Jersey.  El equipo del programa es un ejemplo ideal para compartir el mensaje del programa…que Cristo es para todos.
DONDE DIOS LLORA
The Spanish-language version of the weekly program "Where God Weeps" shows the suffering of Christians today, in places where the faithful cannot live their faith fully due to political, social and economic restrictions. The program presents bishops, priests, missionaries and laity who testify to the tears and needs of the Church, while giving testimony of Faith and Hope in the Lord.
REDESCUBRIR
Is it possible that the root of the problems in our lives, in our families, and in our society is really a crisis of faith? This is the first of two programs that not only touches on what it really means to believe but also tries to respond to questions and doubts about the relationship between faith and reason.
REALFAITH TV
Every Saturday at 8:30 AM and 9:00 AM
From the Diocese of Trenton, Realfaith TV is a peer produced and faith driven teen talk show discussing modern issues facing young people.
BEN HUR: A TALE OF FORGIVENESS
Friday, February 16 at 8:00 PM
This companion TV special for the upcoming re-imagining of the 1959 classic, in theaters Aug. 19, offers a behind-the-scenes look at the making of the film and commentaries from many of America's loved faith leaders.
STREET BALL: THE HOMELESS WORLD CUP
Saturday, February 17 at 1:30 PM 
Street ball is a fast paced documentary about the hope and resilience that dwells within the human spirit, it tells the stories of South Africa's 2008 Homeless World Cup team. The Homeless World Cup is an annual soccer tournament that draws teams from over 56 countries, comprised of homeless and the excluded.
STRENGTH TO LOVE
Sunday, February 18 at 6:00 PM
A Unity Concert in honor of Dr. Martin Luther King Jr.'s vision for the future and Black History Month. Performed at the CoCathedral of St. Joseph by the Schiller Institute NYC Community Chorus, the concert features African-American spirituals and pieces by Verdi, Handel and others.
CONVERSATION WITH CARDINAL DOLAN
Sunday, February 18 at 9:00 PM
Each week, Cardinal Timothy Dolan discusses what is happening in the Archdiocese of New York and other significant issues in the Church. He also engages with the audience via calls and emails.
WHERE GOD WEEPS
Monday, February 19 at 8:00 PM
Dr. Paul Bhatti, is the Former Federal Minister of National Harmony and Minorities Affairs in Pakistan. This post was previously held by his brother Shabaz Bhatti, who was assassinated in 2011. Dr. Bhatti reflex in the current reality for Christians in Pakistan.
BELOVED
Wednesday, February 21 at 9:00 PM
Marriage isn't just one of the world's great institutions. God actually created the world for the union of husband and wife. From the beginning of creation to the coming of Christ, God unveils his plan for married couples to share in his very divine love and to be most profound sign of his love to the world
THE WILD GOOSE
Thursday, February 22 at 8:30 PM
Encore: Friday, February 23 at 4:30 PM
The "Wild Goose" was a term that the ancient Celts had for the Holy Spirit, and in these fourteen independent episodes, Fr. Dave Pivonka, TOR, leads you on an unforgettable journey around the world and into the very heart of God. Ep.1: God's Love Poured Out.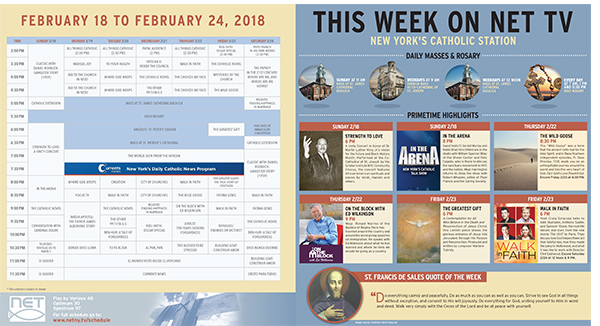 Click here for a grid view of the daily schedule for the week of 2/18/17
Click here for a grid view of the overnight schedule for the week of 2/18/17