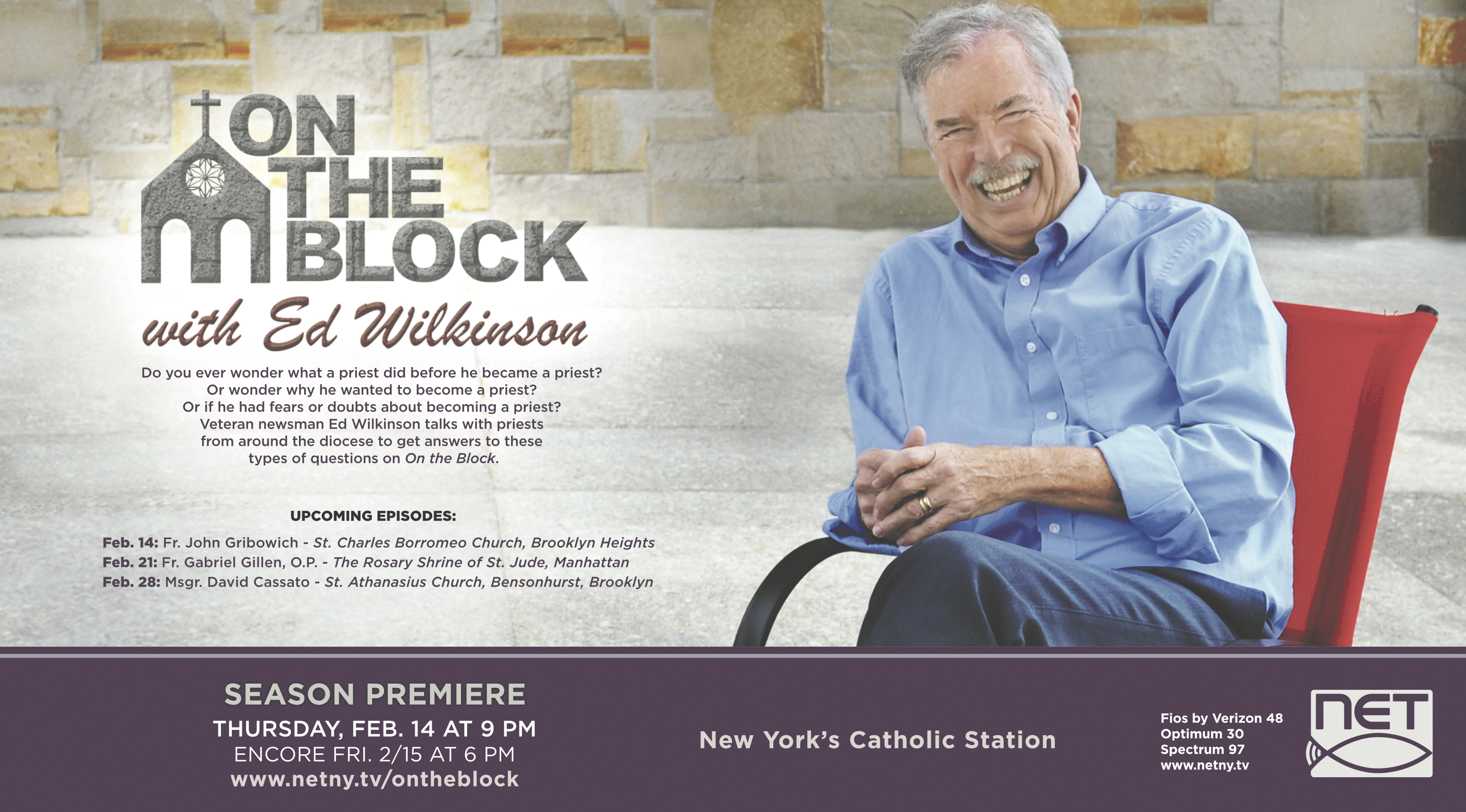 Click here to view the schedule grid for 02/10/2019
Click here to view the overnight grid for 02/10/2019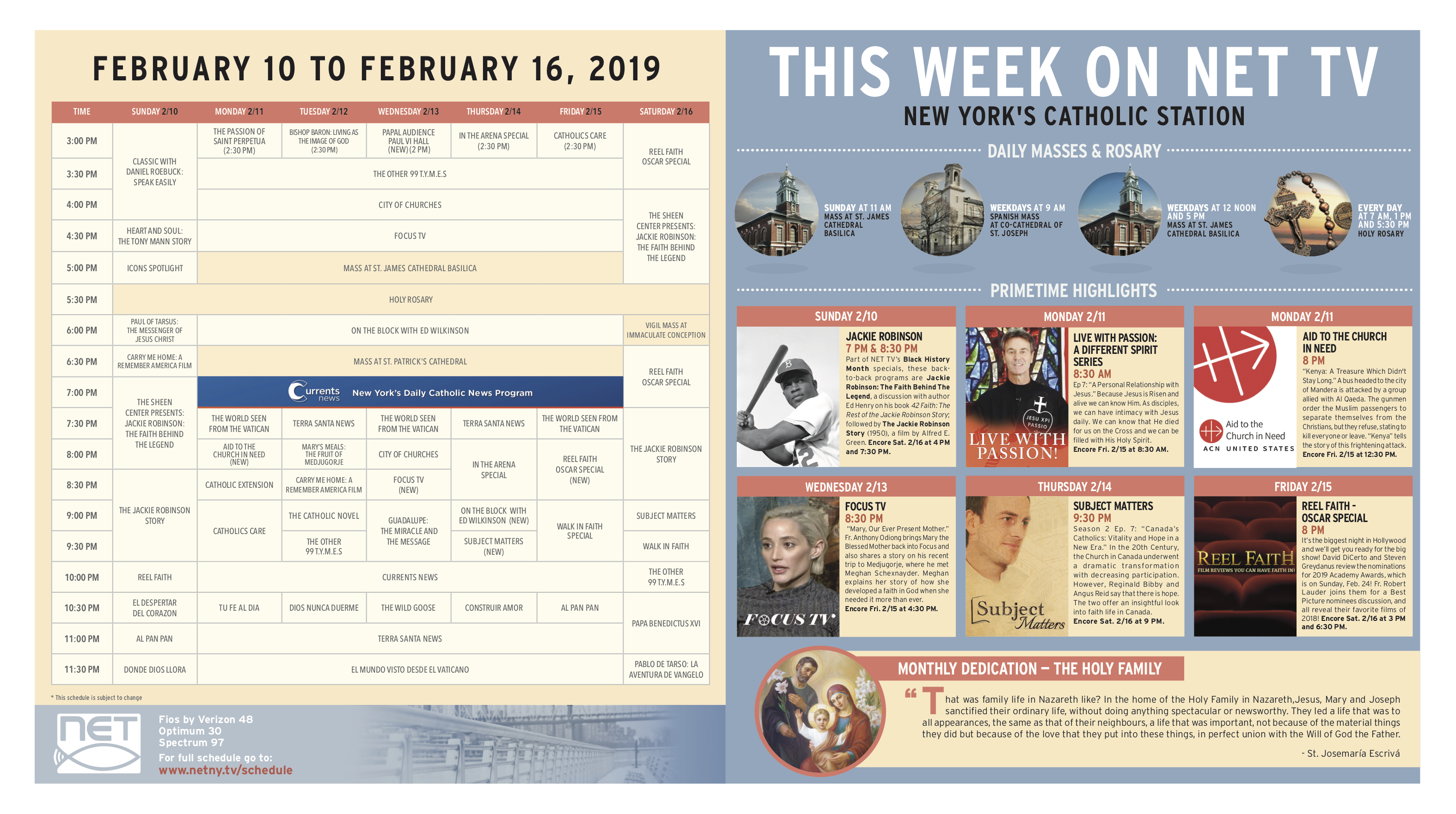 DAILY MASS FROM THE CO-CATHEDRAL OF ST. JOSEPH
LIVE from the Co-Cathedral of St. Joseph. Tune in weekdays at 8 AM for the Mass in English and at 9 AM for the Mass in Spanish (La Santa Misa).
HOLY MASS FROM THE CATHEDRAL BASILICA OF ST. JAMES
LIVE from the Cathedral Basilica of St. James. Tune in weekdays at 12 noon (encored at 5 PM) and Sundays at 11 AM.
HOLY ROSARY
On NET TV three times a day at 7 AM, 1 PM and 5:30 PM.
PAPAL AUDIENCE
Wednesdays at 2 PM
Weekly message of our Holy Father Pope Francis to pilgrims from around the world.
TeleMATER Italian Programming
Saturdays and Sundays at 12 Noon-1 PM
TeleMATER – the Television of the Mother – is based in New York City, and with a mission in harmony with the apostolic mission of the Catholic Church, it aims to be the Catholic Television of the Italians in America. Now on NET TV, watch TeleMATER's Italian programs every Saturday and Sunday from 12 Noon – 1 PM. The Sunday's hour is dedicated to the Angelus and Holy Mass in Italian, celebrated from Our Lady of Pompeii Church in Greenwich Village, NYC.
HISPANIC BLOCK
Every night at 10:30 PM
NET TV presents the new primetime Hispanic Block, featuring original programming such as Dios Nunca Duerme (premieres Tuesday) and conversation that reflect the diversity of the community.
EL MUNDO VISTO DESDE EL VATICANO
Weekly message of our Holy Father Pope Francis to pilgrims from around the world (en Espanol).
CRISTO PARA TODOS
Cristo Para Todos es un programa católico de televisión producido por el Departamento de Radio y Televisión de la Diócesis de Trenton en New Jersey.  El equipo del programa es un ejemplo ideal para compartir el mensaje del programa…que Cristo es para todos.
AL PAN, PAN
El padre Tomás del Valle y Jorge I. Domínguez-López inician dedicado a el 100 aniversario de las apariciones de la Virgen de Fátima.
DONDE DIOS LLORA
The Spanish-language version of the weekly program "Where God Weeps" shows the suffering of Christians today, in places where the faithful cannot live their faith fully due to political, social and economic restrictions. The program presents bishops, priests, missionaries and laity who testify to the tears and needs of the Church, while giving testimony of Faith and Hope in the Lord.
REDESCUBRIR
Is it possible that the root of the problems in our lives, in our families, and in our society is really a crisis of faith? This is the first of two programs that not only touches on what it really means to believe but also tries to respond to questions and doubts about the relationship between faith and reason.
CATHOLICS CARE
Friday, February 15th at 2:30 pm 
Catholics Care: Houston reflects on what those affected by the damage endured and chronicles the first relief mission of Catholics Care.
CODY HIGH: A LIFE REMODELED PROJECT
Saturday, February 16th at 9 PM
"Cody High" A life Remodeled Project" focuses on the efforts of Detroit's impoverished Cody Rouge community to create a safe environment. 
INTO THE MYSTERY: THE 75TH ANNIVERSARY OF ST. MICHAEL'S CHOIR SCHOOL
Saturday, February 16th at 2 PM
St. Michael's Choir School celebrated its 75th Anniversary with a performance tour at some of the world's most important sacred music venues.
SUBJECT MATTERS (ENCORE) Canada's Catholics: Vitality and Hope in a New Era
Saturday, February 16th at 9 PM
In the 20th Century, the Church in Canada underwent a dramatic transformation with decreasing participation. But this book brings hope in a new era.
RADICAL JOY: "Sisters of Mercy"
Sunday, February 17th at 9:30 AM
 Inspired by the life of Jesus and founder Catherine McAuley, the Sisters of Mercy envision a just world for people who are poor and in need of help.
STRENGTH TO LOVE: A UNITY CONCERT
Sunday, February 17th at 6 PM
Performed at the Co-Cathedral of St. Joseph by the Schiller Institute Community Chorus, the concert features African-American spirituals and pieces.
LIVE WITH PASSION (NEW) The Joy of the Gospel
Monday, February 18th at 8:30 AM
Joy is a witness to all about the truth of God. The proclamation of the Gospel is meant to bring people into a saving relationship with God.
AID TO THE CHURCH IN NEED (NEW) Sierra Leone: Perdonare
Monday, February 18th at 8 PM
Sierra Leone's civil war was one of the bloodiest in history and Fr. Maurizio Boa stayed throughout. He now heals those who committed horrific crimes.
BENEDICT XVI IN HONOR OF THE TRUTH
Tuesday, February 19th at 2:30 PM
This documentary tells the story of Benedict's life and investigates the reasons for his resignation through interviews with experts and witnesses.
AMBASSADOR OF KINDNESS: THE LIFE AND LEGACY OF RACHEL SCOTT
Wednesday, February 20th at 9 PM
This 60-minute documentary tells the story of Columbine High School victim Rachel Joy Scott and how her short life had an impact on so many others.
ISAAC HECKER AND THE JOURNEY THROUGH CATHOLIC AMERICA
Thursday, February 21st at 2:30 PM 
This documentary tells the story of how Isaac Hecker became a courageous voice for Catholicism in nineteenth-century America.