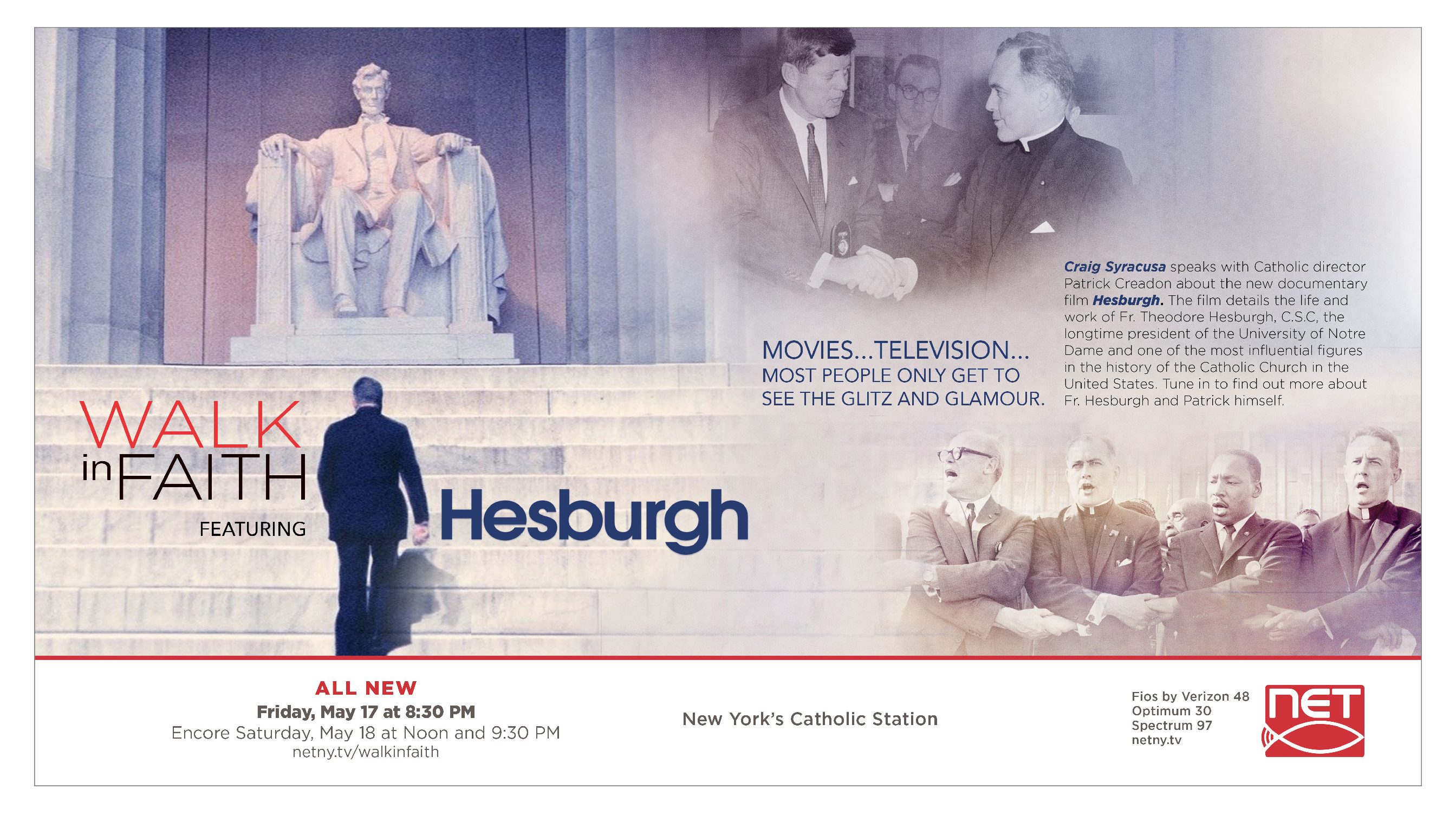 Click here to view the schedule for the week of 5/12
Click here to view the overnight schedule for the week of 5/13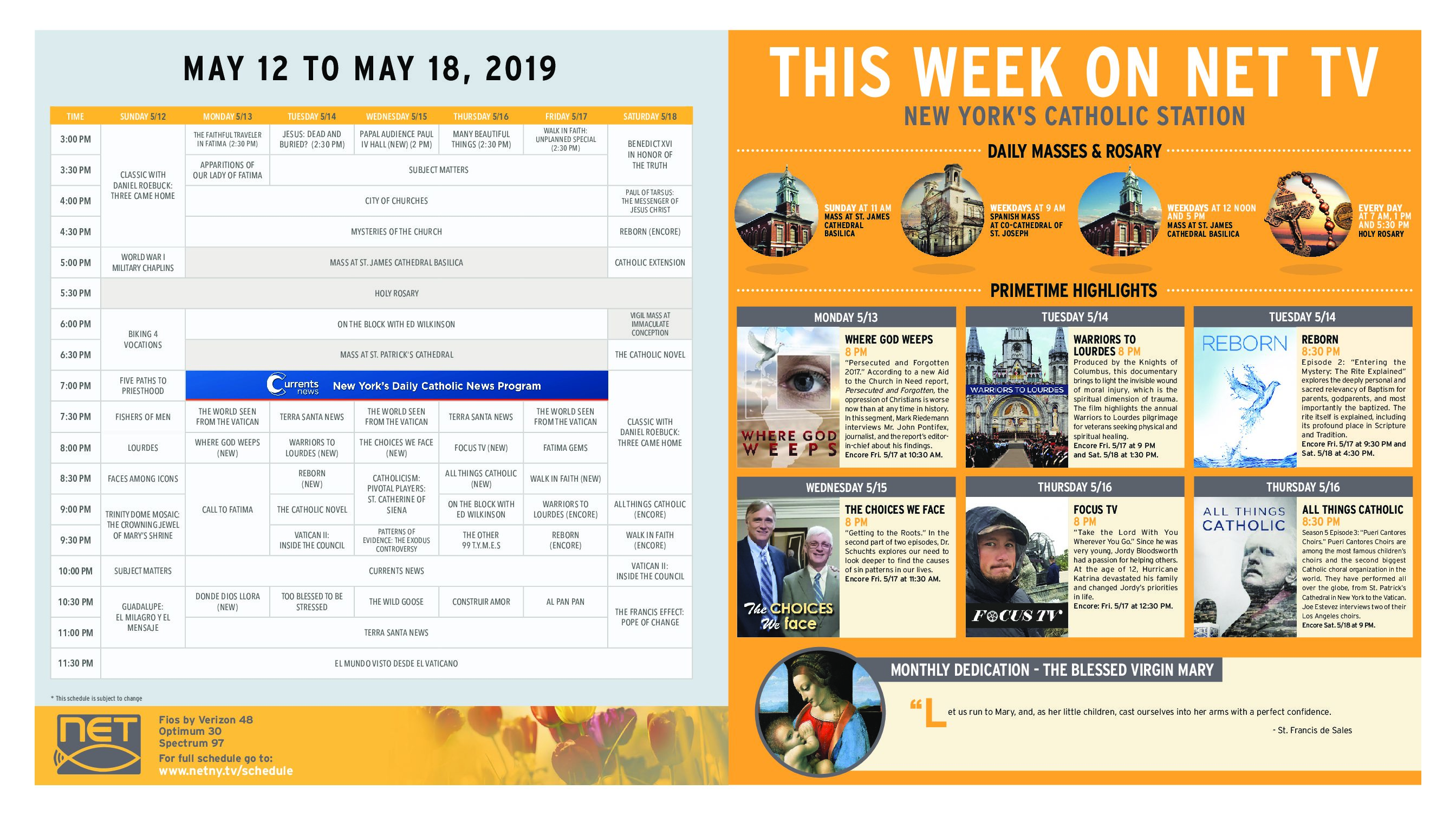 DAILY MASS FROM THE CO-CATHEDRAL OF ST. JOSEPH
LIVE from the Co-Cathedral of St. Joseph. Tune in weekdays at 8 AM for the Mass in English and at 9 AM for the Mass in Spanish (La Santa Misa).
HOLY MASS FROM THE CATHEDRAL BASILICA OF ST. JAMES
LIVE from the Cathedral Basilica of St. James. Tune in weekdays at 12 noon (encored at 5 PM) and Sundays at 11 AM.
HOLY ROSARY
On NET TV three times a day at 7 AM, 1 PM and 5:30 PM.
PAPAL AUDIENCE
Wednesdays at 2 PM
Weekly message of our Holy Father Pope Francis to pilgrims from around the world.
HISPANIC BLOCK
Every night at 10:30 PM
NET TV presents the new primetime Hispanic Block, featuring original programming such as Dios Nunca Duerme (premieres Tuesday) and conversation that reflect the diversity of the community.
EL MUNDO VISTO DESDE EL VATICANO
Weekly message of our Holy Father Pope Francis to pilgrims from around the world (en Espanol).
CRISTO PARA TODOS
Cristo Para Todos es un programa católico de televisión producido por el Departamento de Radio y Televisión de la Diócesis de Trenton en New Jersey.  El equipo del programa es un ejemplo ideal para compartir el mensaje del programa…que Cristo es para todos.
AL PAN, PAN
El padre Tomás del Valle y Jorge I. Domínguez-López inician dedicado a el 100 aniversario de las apariciones de la Virgen de Fátima.
DONDE DIOS LLORA
The Spanish-language version of the weekly program "Where God Weeps" shows the suffering of Christians today, in places where the faithful cannot live their faith fully due to political, social and economic restrictions. The program presents bishops, priests, missionaries and laity who testify to the tears and needs of the Church, while giving testimony of Faith and Hope in the Lord.
REDESCUBRIR
Is it possible that the root of the problems in our lives, in our families, and in our society is really a crisis of faith? This is the first of two programs that not only touches on what it really means to believe but also tries to respond to questions and doubts about the relationship between faith and reason.
WHERE GOD WEEPS
Monday, May 13th at 8 PM
"Persecuted and Forgotten 2017." Mark Riedemann interviews Mr. John Pontifex, journalist, and the report's editor-in-chief about his findings in the report Persecuted and Forgotten.
WARRIORS TO LOURDES PILGRIMAGE (NEW)
Tuesday, May 14th at 8 PM
Warriors to Lourdes highlights the annual Warriors to Lourdes pilgrimage for ill and injured veterans seeking physical and spiritual healing.
REBORN
Tuesday, May 14th at 8:30 PM
Reborn explains the deeply personal and sacred relevancy of Baptism for Parents, Godparents, and most importantly the Baptized with a step-by-step explanation of the rite itself, including its profound place in Scripture and Tradition.
THE CHOICES WE FACE (NEW)
Wednesday, May 15th at 8 PM
"Getting to the Roots." In the second part of two episodes, Dr. Schuchts explores our need to look deeper to find the causes of sin patterns in our lives.
FOCUS TV
Thursday, May 16th at 8 PM
"Take the Lord With You Wherever You Go." Since he was young, Jordy Bloodsworth had a passion for helping others. Then, Hurricane Katrina devastated his family and changed Jordy's priorities.
ALL THINGS CATHOLIC
Thursday, May 16th at 8:30 PM
"Pueri Cantores Choirs." Pueri Cantores Choirs are among the famous children's choirs and the second biggest Catholic choir in the world. Joe interviews two of their choirs.
WALK IN FAITH (NEW)
Friday, May 17th at 8:30 PM
Craig Syracusa speaks with director Patrick Creadon about the new documentary film Hesburgh, which details the life and work of Fr. Theodore Hesburgh.
CLASSIC
Saturday, May 18th at 7:00 PM
Sister Maryann Lopiccolo discusses this true story of American women and children held captive in a Japanese prison camp during World War Two.
CONVERSATION WITH CARDINAL DOLAN (NEW)
Saturday, May 19th at 9:00 PM
During his live show, Cardinal Dolan discusses important religious issues, gives his perspective on news from around the nation and the world.