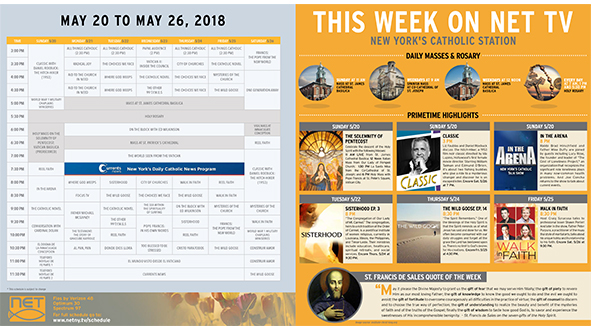 Click here to view the schedule grid for the week of 5/20/18
Click here to view the overnight schedule for the week of 5/20/18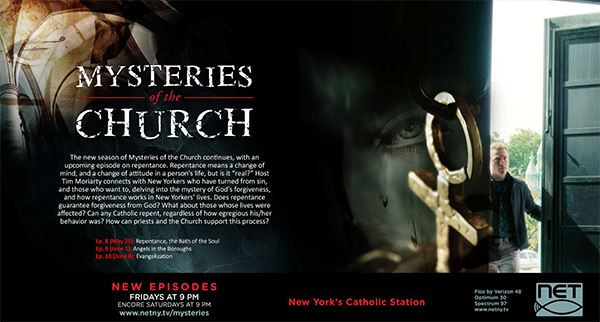 DAILY MASS FROM THE CO-CATHEDRAL OF ST. JOSEPH
LIVE from the Co-Cathedral of St. Joseph. Tune in weekdays at 8 AM for the Mass in English and at 9 AM for the Mass in Spanish (La Santa Misa).
HOLY MASS FROM THE CATHEDRAL BASILICA OF ST. JAMES
LIVE from the Cathedral Basilica of St. James. Tune in weekdays at 12 noon (encored at 5 PM) and Sundays at 11 AM.
HOLY ROSARY
On NET TV three times a day at 7 AM, 1 PM and 5:30 PM.
PAPAL AUDIENCE
Wednesdays at 2 PM
Weekly message of our Holy Father Pope Francis to pilgrims from around the world.
TeleMATER Italian Programming
Saturdays and Sundays at 12 Noon-1 PM
TeleMATER – the Television of the Mother – is based in New York City, and with a mission in harmony with the apostolic mission of the Catholic Church, it aims to be the Catholic Television of the Italians in America. Now on NET TV, watch TeleMATER's Italian programs every Saturday and Sunday from 12 Noon – 1 PM. The Sunday's hour is dedicated to the Angelus and Holy Mass in Italian, celebrated from Our Lady of Pompeii Church in Greenwich Village, NYC.
HISPANIC BLOCK
Every night at 10:30 PM
NET TV presents the new primetime Hispanic Block, featuring original programming such as Dios Nunca Duerme (premieres Tuesday) and conversation that reflect the diversity of the community.
EL MUNDO VISTO DESDE EL VATICANO
Weekly message of our Holy Father Pope Francis to pilgrims from around the world (en Espanol).
CRISTO PARA TODOS
Cristo Para Todos es un programa católico de televisión producido por el Departamento de Radio y Televisión de la Diócesis de Trenton en New Jersey.  El equipo del programa es un ejemplo ideal para compartir el mensaje del programa…que Cristo es para todos.
DONDE DIOS LLORA
The Spanish-language version of the weekly program "Where God Weeps" shows the suffering of Christians today, in places where the faithful cannot live their faith fully due to political, social and economic restrictions. The program presents bishops, priests, missionaries and laity who testify to the tears and needs of the Church, while giving testimony of Faith and Hope in the Lord.
REDESCUBRIR
Is it possible that the root of the problems in our lives, in our families, and in our society is really a crisis of faith? This is the first of two programs that not only touches on what it really means to believe but also tries to respond to questions and doubts about the relationship between faith and reason.
REALFAITH TV
Every Saturday at 8:30 AM and 9:00 AM
From the Diocese of Trenton, Realfaith TV is a peer produced and faith driven teen talk show discussing modern issues facing young people.
STREETBALL: THE STORY OF THE HOMELESS WORLD CUP
Saturday, May 19 at 3:00 PM
Streetball is a fast paced documentary about the hope and resilience that dwells within the human spirit, it tells the stories of South Africa's 2008 Homeless World Cup team. The Homeless World Cup is an annual soccer tournament that draws teams from over 56 countries, comprised of homeless and the excluded.

THE SOLEMNITY OF PENTECOST
Sunday, May 20 at 11 AM – LIVE
Celebrate the descent of the Holy Spirit with the following Masses: 11 AM LIVE from St. James Cathedral Basilica; 12 Noon Italian Mass from Our Lady of Pompeii Church; 1:30 PM La Santa Misa from the Co-Cathedral of St. Joseph; and 6 PM Holy Mass with Pope Francis at St. Peter's Square, Vatican City.
WHERE GOD WEEPS
Monday, May 21 at 8:00 PM
Mark Riedemann speaks to Fr. Simon Jude Kanyike from Kampala, Uganda about the realities of the Church in Uganda which is extremely diverse.
SISTERHOOD EP. 3
Tuesday, May 22 at 8 PM
The Congregation of Our Lady of Mount Carmel are called "…to be in active ministries that help bring about a more peaceful, just and loving world."
THE CHOICES WE FACE
Wednesday, May 23 at 8:30 PM
Peter preaches at the 2017 New Evangelization Summit on trusting God in the midst of increasing cultural darkness.
MASS AT ST. PATRICK'S
Thursday, May 24 at 6:30 PM
Mass from St. Patrick Cathedral. Tune in weekdays at 6:30 PM.
THE WILD GOOSE EP. 14
Thursday, May 24 at 8:30 PM
One of the blessings of the Holy Spirit is that it reminds us what Jesus said and done for us and there is no limit to what God desires for our lives.