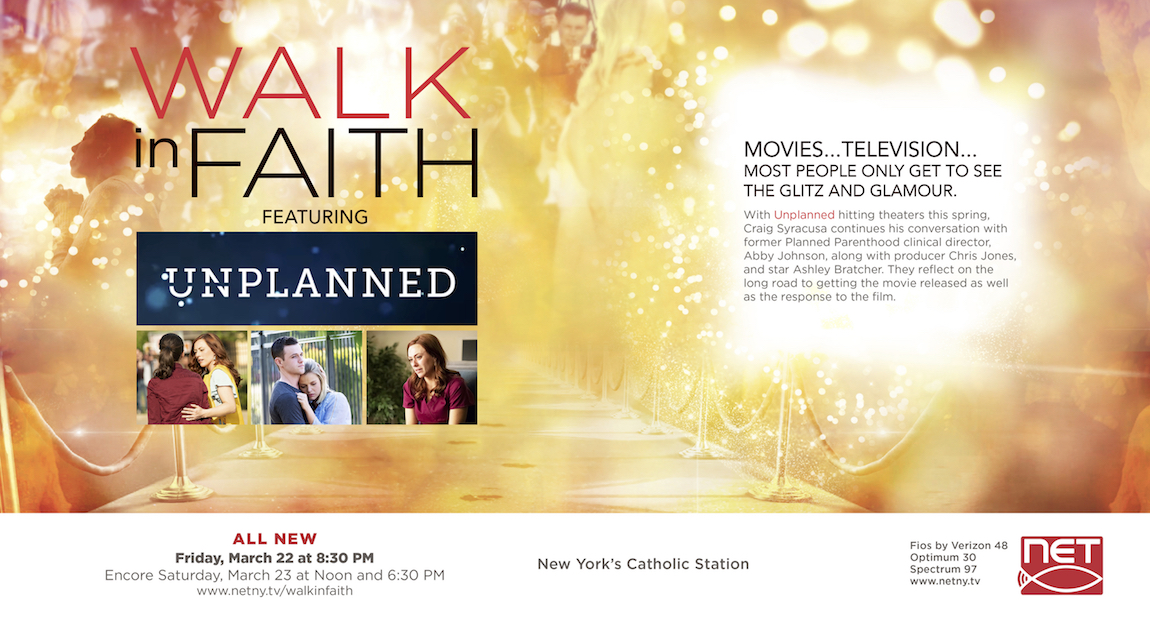 Click here to view the schedule grid for 03/17/2019
Click here to view the overnight grid for 03/18/2019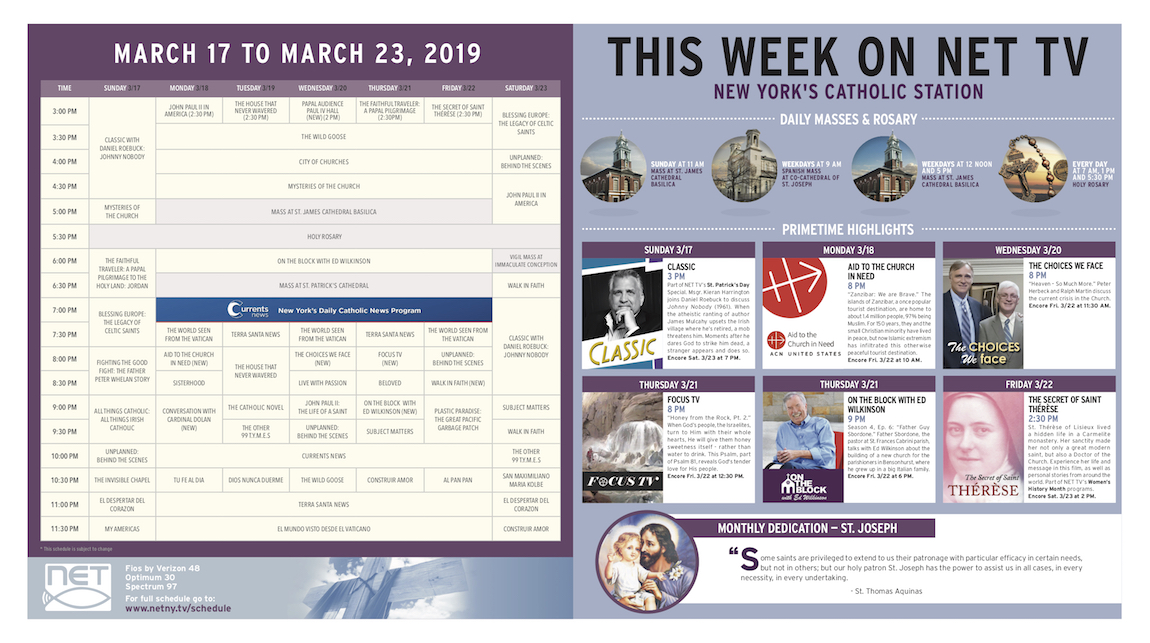 DAILY MASS FROM THE CO-CATHEDRAL OF ST. JOSEPH
LIVE from the Co-Cathedral of St. Joseph. Tune in weekdays at 8 AM for the Mass in English and at 9 AM for the Mass in Spanish (La Santa Misa).
HOLY MASS FROM THE CATHEDRAL BASILICA OF ST. JAMES
LIVE from the Cathedral Basilica of St. James. Tune in weekdays at 12 noon (encored at 5 PM) and Sundays at 11 AM.
HOLY ROSARY
On NET TV three times a day at 7 AM, 1 PM and 5:30 PM.
PAPAL AUDIENCE
Wednesdays at 2 PM
Weekly message of our Holy Father Pope Francis to pilgrims from around the world.
TeleMATER Italian Programming
Saturdays and Sundays at 12 Noon-1 PM
TeleMATER – the Television of the Mother – is based in New York City, and with a mission in harmony with the apostolic mission of the Catholic Church, it aims to be the Catholic Television of the Italians in America. Now on NET TV, watch TeleMATER's Italian programs every Saturday and Sunday from 12 Noon – 1 PM. The Sunday's hour is dedicated to the Angelus and Holy Mass in Italian, celebrated from Our Lady of Pompeii Church in Greenwich Village, NYC.
HISPANIC BLOCK
Every night at 10:30 PM
NET TV presents the new primetime Hispanic Block, featuring original programming such as Dios Nunca Duerme (premieres Tuesday) and conversation that reflect the diversity of the community.
EL MUNDO VISTO DESDE EL VATICANO
Weekly message of our Holy Father Pope Francis to pilgrims from around the world (en Espanol).
CRISTO PARA TODOS
Cristo Para Todos es un programa católico de televisión producido por el Departamento de Radio y Televisión de la Diócesis de Trenton en New Jersey.  El equipo del programa es un ejemplo ideal para compartir el mensaje del programa…que Cristo es para todos.
AL PAN, PAN
El padre Tomás del Valle y Jorge I. Domínguez-López inician dedicado a el 100 aniversario de las apariciones de la Virgen de Fátima.
DONDE DIOS LLORA
The Spanish-language version of the weekly program "Where God Weeps" shows the suffering of Christians today, in places where the faithful cannot live their faith fully due to political, social and economic restrictions. The program presents bishops, priests, missionaries and laity who testify to the tears and needs of the Church, while giving testimony of Faith and Hope in the Lord.
REDESCUBRIR
Is it possible that the root of the problems in our lives, in our families, and in our society is really a crisis of faith? This is the first of two programs that not only touches on what it really means to believe but also tries to respond to questions and doubts about the relationship between faith and reason.
WHERE GOD WEEPS
Monday, March 18th at 10:30 AM
"Islam in the XXI Century"- Where God Weeps focuses on areas of the world where Catholics are unable to live their faith fully due to political, social and financial constraints.
JOHN PAUL II IN AMERICA
Monday, March 18th at 2:30 PM
A documentary on St. John Paul II and his relationship with North and South America will screen soon on national television networks.
CONVERSATION WITH CARDINAL DOLAN (NEW)
Monday, March 18th at 9 PM
During his live show, Cardinal Dolan discusses important religious issues, gives his perspective on news from around the nation and the world.
AID TO THE CHURCH IN NEED
Tuesday, March 19th at 10 AM
"Nigeria's Threatened Peace"- Each documentary sheds light on a story that must be told to show the suffering, the hope and struggles of a community.
THE CHOICES WE FACE (NEW)
Wednesday, March 20th at 8 PM
"Heaven – So Much More"- Peter Herbeck and Ralph Martin discuss the current crisis in the Church.
MASS OF TRANSFERAL FOR AUXILIARY BISHOP RENE A. VALERO AT BLESSED SACRAMENT CHURCH
Wednesday, March 20th at 8:30 PM
Mass of Transferal for Auxiliary Bishop Rene A. Valero at Blessed Sacrament Church
LIVE WITH PASSION
Thursday, March 21st at 8:30 AM
True Religion The foundation of Christianity is love. When we love others we are following Jesus authentically and can change the world one person at a time.
FOCUS TV (NEW)
Thursday, March 21st at 8 PM
"Honey from the Rock, Pt. 2." The image is a rich one from a Jewish-Catholic perspective as the Jewish people are promised "honey from the rock" if they turn to God.
THE SECRET OF SAINT THERESE
Friday, March 22nd at 2:30 PM
These 12 accounts reveal her secret. A secret so powerful, it gives life to her mission to "Love Jesus and to make Him loved by others."
UNPLANNED: BEHIND THE SCENES
Saturday, March 23rd at 4 PM
Behind the scenes of the upcoming film Unplanned, the story of Abby Johnson, a former Planned Parenthood employee turned pro-life advocate.