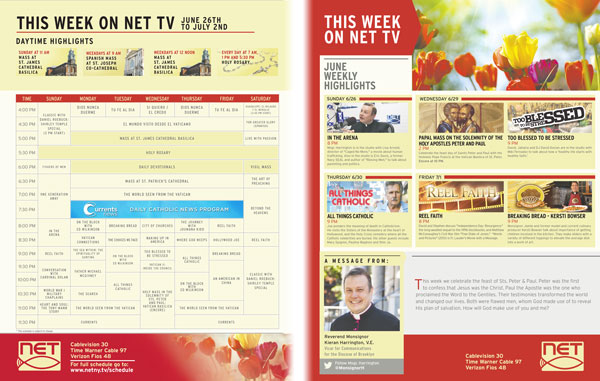 Click here for a grid view of the daily schedule for the week of 6/26/16
Click here for a grid view of the overnight schedule for the week of 6/26/16
POPE FRANCIS IN ARMENIA
Pope Francis Apostolic Journey to Armenia
Friday, June 24 at 10 AM – LIVE: Visit to the Presidential Palace to Meet the President of the Republic.
Saturday, June 25 at 1 PM: Holy Mass at the Vartanants Square in Gyumri
Sunday, June 26 at 3 PM: Divine Liturgy at the Armenian-Apostolic Cathedral
DAILY MASS
FROM THE CO-CATHEDRAL OF ST. JOSEPH
Weekdays at 8 AM – English
Weekdays at 9 AM – Spanish
Start your day with a Daily Mass, LIVE from the Co-Cathedral of St. Joseph. Tune in at 8 AM for the Mass in English and at 9 AM for the Mass in Spanish (La Santa Misa).
DAILY MASS
FROM THE CATHEDRAL BASILICA OF ST. JAMES
Weekdays at 12 Noon
Sundays at 11 AM
LIVE from the Cathedral Basilica of St. James, the Holy Mass is celebrated on weekdays at 12 noon (encored at 5 PM) and Sundays at 11 AM.
VATICAN CONNECTIONS
Mondays at 8:30 PM
Ever wonder what goes on in the Vatican on a daily basis? What does the Pope do? Why does it matter? Get answers to all these questions from Vatican Connections with Alicia Ambrosio.
PAPAL AUDIENCE
Wednesdays at 2 PM and 10 PM
Watch the weekly message of our Holy Father Pope Francis to pilgrims from around the world at St. Peter's Basilica Square, the Vatican.
TeleMATER
Saturdays and Sundays at 12 Noon-1 PM
TeleMATER – the Television of the Mother – is based in New York City, and with a mission in harmony with the apostolic mission of the Catholic Church, it aims to be the Catholic Television of the Italians in America. Now on NET TV, watch TeleMATER's Italian programs every Saturday and Sunday from 12 Noon – 1 PM. The Sunday's hour is dedicated to the Angelus and Holy Mass in Italian, celebrated from Our Lady of Pompeii Church in Greenwich Village, NYC.
SOLEMNITY OF STS. PETER AND PAUL
Wednesday, June 29 at 2 PM and 10 PM
Holy Father Pope Francis celebrates Holy Mass to commemorate the Solemnity of Saints Peter and Paul at St. Peter's Basilica Square, the Vatican.
CODY HIGH: A LIFE REMODELED PROJECT
Saturday, July 2 at 2 PM
In 2014, with the partnership of Life-Remodeled, a Detroit-focused non-profit organization, the Cody Rouge community rose up alongside over 10,000 volunteers to remodel over 300 blocks of their neighborhood.