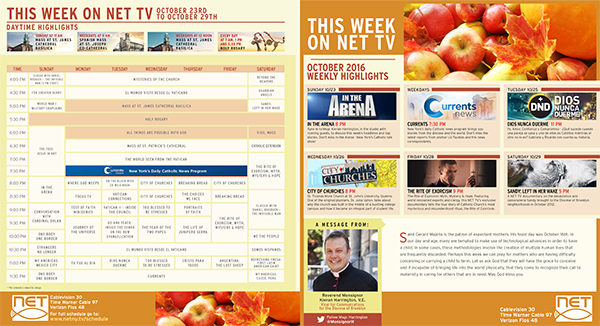 Click here for a grid view of the daily schedule for the week of 10/23/16
Click here for a grid view of the overnight schedule for the week of 10/23/16
DAILY MASS FROM THE CO-CATHEDRAL OF ST. JOSEPH
LIVE from the Co-Cathedral of St. Joseph. Tune in weekdays at 8 AM for the Mass in English and at 9 AM for the Mass in Spanish (La Santa Misa).
HOLY MASS FROM THE CATHEDRAL BASILICA OF ST. JAMES
LIVE from the Cathedral Basilica of St. James. Tune in weekdays at 12 noon (encored at 5 PM) and Sundays at 11 AM.
HOLY ROSARY
On NET TV three times a day at 7 AM, 1 PM and 5:30 PM.
PAPAL AUDIENCE
Wednesdays at 2 PM and 10 PM
Weekly message of our Holy Father Pope Francis to pilgrims from around the world.
TeleMATER Italian Programming
Saturdays and Sundays at 12 Noon-1 PM
TeleMATER – the Television of the Mother – is based in New York City, and with a mission in harmony with the apostolic mission of the Catholic Church, it aims to be the Catholic Television of the Italians in America. Now on NET TV, watch TeleMATER's Italian programs every Saturday and Sunday from 12 Noon – 1 PM. The Sunday's hour is dedicated to the Angelus and Holy Mass in Italian, celebrated from Our Lady of Pompeii Church in Greenwich Village, NYC.
HISPANIC BLOCK
Every night at 10:30 PM except Wednesdays
NET TV presents the new primetime Hispanic Block, featuring original programming such as Dios Nunca Duerme (premieres Tuesday) and conversation that reflect the diversity of the community.
EL MUNDO VISTO DESDE EL VATICANO
Weekly message of our Holy Father Pope Francis to pilgrims from around the world (en Espanol).
REALFAITH TV
Every Saturday at 8:30 AM and 9:00 AM
From the Diocese of Trenton, Realfaith TV is a peer produced and faith driven teen talk show discussing modern issues facing young people.
CONVERSATIONS WITH CARDINAL DOLAN
Sunday, October 23 at 9:00 PM
Each week, Cardinal Timothy Dolan discusses what is happening in the Archdiocese of New York and other significant issues in the Church. He also engages with the audience via calls and emails.
MASS FROM ST. PATRICK'S CATHEDRAL
Monday, October 24 at 6:30 PM
Mass from St. Patrick's Cathedral. Tune in weekdays at 6:30 PM
GO AND TEACH: INSIDE THE SYNOD OF THE NEW EVANGELIZATION
Tuesday, October 25 at 9:30 PM
In October 2012, fifty years after the opening of Vatican II, the 13th Ordinary Synod of Bishops was held under Pope Benedict XVI to discuss the New Evangelization for the Transmission of the Christian Faith. For the first time in history two journalists (S+L producers Sebastian Gomes and Charles Le Bourgeois) were allowed inside the Synod to document the experience. Go and Teach is a feature documentary that tells the story of the Catholic Church's struggle to find its identity and live out its mission in the complex global reality of the 21st century.
THE CHOICES WE FACE
Thursday, October 20 at 8:30 PM
Each week, Ralph Martin, President of Renewal Ministries, co-host Peter Herbeck, and their guests, lead viewers on an exploration of important and inspiring topics surrounding faith, and life in the Catholic Church.
THE LIFE OF JUNIPERO SERRA
Thursday, October 27 at 9:30 PM
A documentary about the life and journey of Junípero Serra called Father Junipero, the Man Who Walked, in both Spanish and Spanish with English subtitles.
THE RITE OF EXORCISM: MYTH, MYSTERY & HOPE
Friday, October 28 at 9:00 PM
The Rite of Exorcism: Myth, Mystery & Hope. Featuring world renowned experts and clergy, this NET TV's exclusive documentary tells the true story of Catholic Church's most mysterious and misunderstood ritual, the Rite of Exorcism.
SANDY: LEFT IN HER WAKE
Saturday, October 29 at 5:00 PM
A NET TV documentary on the devastation and camaraderie Sandy brought to the Diocese of Brooklyn  neighborhoods in October 2012.