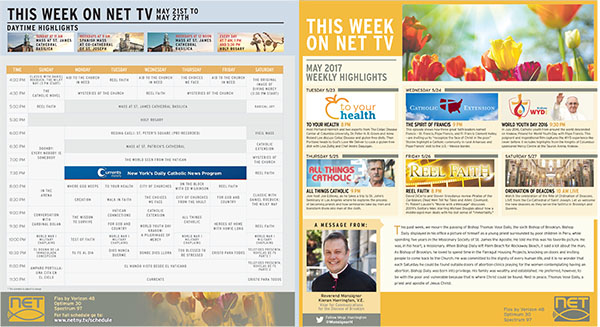 Click here for a grid view of the daily schedule for the week of 5/21/17
Click here for a grid view of the overnight schedule for the week of 5/21/17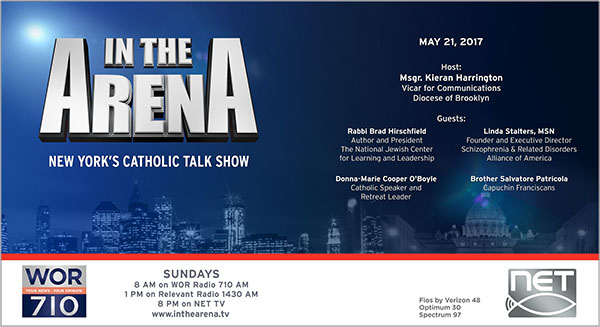 DAILY MASS FROM THE CO-CATHEDRAL OF ST. JOSEPH
LIVE from the Co-Cathedral of St. Joseph. Tune in weekdays at 8 AM for the Mass in English and at 9 AM for the Mass in Spanish (La Santa Misa).
HOLY MASS FROM THE CATHEDRAL BASILICA OF ST. JAMES
LIVE from the Cathedral Basilica of St. James. Tune in weekdays at 12 noon (encored at 5 PM) and Sundays at 11 AM.
HOLY ROSARY
On NET TV three times a day at 7 AM, 1 PM and 5:30 PM.
PAPAL AUDIENCE
Wednesdays at 2 PM
Weekly message of our Holy Father Pope Francis to pilgrims from around the world.
TeleMATER Italian Programming
Saturdays and Sundays at 12 Noon-1 PM
TeleMATER – the Television of the Mother – is based in New York City, and with a mission in harmony with the apostolic mission of the Catholic Church, it aims to be the Catholic Television of the Italians in America. Now on NET TV, watch TeleMATER's Italian programs every Saturday and Sunday from 12 Noon – 1 PM. The Sunday's hour is dedicated to the Angelus and Holy Mass in Italian, celebrated from Our Lady of Pompeii Church in Greenwich Village, NYC.
HISPANIC BLOCK
Every night at 10:30 PM
NET TV presents the new primetime Hispanic Block, featuring original programming such as Dios Nunca Duerme (premieres Tuesday) and conversation that reflect the diversity of the community.
EL MUNDO VISTO DESDE EL VATICANO
Weekly message of our Holy Father Pope Francis to pilgrims from around the world (en Espanol).
CRISTO PARA TODOS
Cristo Para Todos es un programa católico de televisión producido por el Departamento de Radio y Televisión de la Diócesis de Trenton en New Jersey.  El equipo del programa es un ejemplo ideal para compartir el mensaje del programa…que Cristo es para todos.
DONDE DIOS LLORA
The Spanish-language version of the weekly program "Where God Weeps" shows the suffering of Christians today, in places where the faithful cannot live their faith fully due to political, social and economic restrictions. The program presents bishops, priests, missionaries and laity who testify to the tears and needs of the Church, while giving testimony of Faith and Hope in the Lord.
REDESCUBRIR
Is it possible that the root of the problems in our lives, in our families, and in our society is really a crisis of faith? This is the first of two programs that not only touches on what it really means to believe but also tries to respond to questions and doubts about the relationship between faith and reason.
REALFAITH TV
Every Saturday at 8:30 AM and 9:00 AM
From the Diocese of Trenton, Realfaith TV is a peer produced and faith driven teen talk show discussing modern issues facing young people.
CONVERSATION WITH CARDINAL DOLAN
Sunday, May 21 at 9:00 PM
Each week, Cardinal Timothy Dolan discusses what is happening in the Archdiocese of New York and other significant issues in the Church. He also engages with the audience via calls and emails.
WHERE GOD WEEPS
Monday, May 22 at 8:00 PM
A weekly program from Catholic Radio and Television Network (CRTN) that concentrates on the areas of the world where Catholics are unable to live their faith fully due to political, social and financial constraints.
A WISDOM TO SURVIVE
Monday, May 22 at 9:00 PM
Directed by John Ankele & Anne Macksoud, the film explores how unlimited growth and greed are destroying the life support system of the planet, the social fabric of the society, and the lives of billions of people.
VATICAN CONNECTIONS
Tuesday, May 23 at 9:00 PM
Ever wonder what goes on in the Vatican every day? What the Pope does? Who helps him? Why does it matter? The Holy See is a place where many decisions are made which influence the life of the whole Church. It is also one of the most misunderstood institutions. Vatican Connections will help shed some light on what goes on behind Vatican walls and what that means for the rest of us who live outside those walls. From week to week, we'll take an in-depth look at changes in structure, papal documents, new appointments and resignations, apostolic voyages, and much more.
CATHOLIC EXTENSION
Wednesday, May 24 at 9:00 PM
This episode shows how three great faith leaders named Francis – St. Francis, Pope Francis, and Fr. Francis Clement Kelley – are inviting us to "recognize the face of Christ in the poor."
Stories highlight a Catholic community in rural Arkansas and Pope Francis' visit to the U.S. – Mexico border.
WORLD YOUTH DAY 2016
Wednesday, May 24 at 9:30 PM
In July 2016, Catholic youth from around the world descended on Krakow, Poland for World Youth Day with Pope Francis. This poignant and inspirational film captures the WYD experience like
never before. It includes highlights from the Knights of Columbus sponsored Mercy Centre at the Tauron Arena, Krakow
REGINA CAELI
Thursday, May 25 at 6:00 PM
Pope Francis prays the Regina Caeli with pilgrims from his window in the Vatican's Apostolic Palace.
HEROES AT HOME WITH HOWIE LONG
Friday, May 26 at 9:00 PM
Six military heroes from around the US share their personal experiences of service in Operation Iraqi Freedom and Enduring Freedom.
ORDINATIONS OF DEACONS: MASS AT THE CO-CATHEDRAL OF ST. JOSEPH – LIVE
Saturday, May 27 at 10:00 AM
Watch the celebration of the Rite of Ordination of Deacons, LIVE from the Co-Cathedral of Saint Joseph. Let us welcome
the new deacons as they serve the faithful in Brooklyn and Queens.