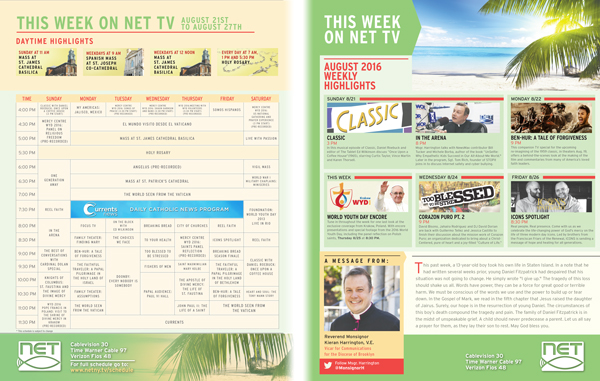 Click here for a grid view of the daily schedule for the week of 8/21/16
Click here for a grid view of the overnight schedule for the week of 8/21/16
DAILY MASS FROM THE CO-CATHEDRAL OF ST. JOSEPH
LIVE from the Co-Cathedral of St. Joseph. Tune in weekdays at 8 AM for the Mass in English and at 9 AM for the Mass in Spanish (La Santa Misa).
HOLY MASS FROM THE CATHEDRAL BASILICA OF ST. JAMES
LIVE from the Cathedral Basilica of St. James. Tune in weekdays at 12 noon (encored at 5 PM) and Sundays at 11 AM.
HOLY ROSARY
On NET TV three times a day at 7 AM, 1 PM and 5:30 PM.
PAPAL AUDIENCE
Wednesdays at 2 PM and 10 PM
Weekly message of our Holy Father Pope Francis to pilgrims from around the world.
TeleMATER Italian Programming
Saturdays and Sundays at 12 Noon-1 PM
TeleMATER – the Television of the Mother – is based in New York City, and with a mission in harmony with the apostolic mission of the Catholic Church, it aims to be the Catholic Television of the Italians in America. Now on NET TV, watch TeleMATER's Italian programs every Saturday and Sunday from 12 Noon – 1 PM. The Sunday's hour is dedicated to the Angelus and Holy Mass in Italian, celebrated from Our Lady of Pompeii Church in Greenwich Village, NYC.
ICONS SPOTLIGHT
Friday, August 26 at 8:30 PM
Real people. Real presence. Come with us as we celebrate the life-changing power of God's mercy on the life of three modern day Icons. Led by brothers from the Franciscan Friars of the Renewal, ICONS is sending a message of hope and healing for all generations.
WWI MILITARY CHAPLAIN MINISERIES
Saturday, August 27 at 6:30 PM
Serving side by side with soldiers in the trenches, the chaplains became essential to the spiritual and psychological needs of those under their care amidst the gruesome reality of warfare. Watch this four-part miniseries as part of your Independence Day celebration.
HEART AND SOUL: THE TONY MANN STORY
Saturday, August 27 at 10:30 PM
The story of Tony Mann, a well-known New York nightclub singer in the 1950s, who performed with entertainers such as Sam Cooke. On the verge of hitting it big, he was torn between being a father and achieving his life dream.
BEN-HUR: A TALE OF FORGIVENESS
Monday, August 29 at 10:30 PM
This companion TV special for the upcoming re-imagining of the 1959 classic, in theaters Aug. 19, offers a behind-the-scenes look at the making of the film and commentaries from many of America's loved faith leaders.
THE CHOICES WE FACE
Tuesday, August 30 at 8:30 PM
Each week, Ralph Martin, President of Renewal Ministries, co-host Peter Herbeck, and their guests, lead viewers on an exploration of important and inspiring topics surrounding faith, and life in the Catholic Church.
CREATION: SENSE OF WONDER MINISERIES
Tuesday, August 30 at 9:00 PM
A new six-part miniseries from Salt + Light TV. In this first episode "Sense of Wonder," we learn that the call to care for creation begins with rediscovering the sense of awe and wonder at the created world.
THE BEST OF CONVERSATIONS WITH CARDINAL DOLAN SPECIAL
Wednesday, August 31 at 10:00 AM
Each week, Cardinal Timothy Dolan discusses what is happening in the Archdiocese of New York and other significant issues in the Church. He also engages the audience via calls and emails.
VESPERS ON THE OCCASION OF THE WORLD DAY OF PRAYER FOR THE CARE OF CREATION
Thursday, September 1 at 11:00 AM – LIVE
September 1 was proclaimed as the World Day of Prayer for Creation by the Orthodox Church in 1989, and many other Christian churches have joined since then, with Pope Francis most recently in 2015. It was then extended to be a month-long Season of Creation, ending on October 4 (Feast of St. Francis). Pope Francis presides the Vespers, LIVE from St. Peter's Basilica, Vatican, to mark the beginning of the month.
BEST OF CITY OF CHURCHES SPECIAL
Thursday, September 1 at 8:00 PM
Host Anthony Mangano takes a look back at the previous season and offers a sneak peek at upcoming episodes of City of Churches.
JOURNEY OF THE UNIVERSE
Friday, September 2 at 9:00 PM
During the month-long celebration of the Season of Creation, this Emmy award-winning documentary tells an epic story of cosmic, earth and human transformation, written by Brian Thomas Swimme & Mary Evelyn Tucker.
CATECHESIS FOR WORKERS OF MERCY
Saturday, September 3 at 3:30 PM
Continuing the yearlong celebration of the Jubilee of Mercy, Pope Francis holds catechesis for workers and volunteers of mercy at St. Peter's Square, Vatican.