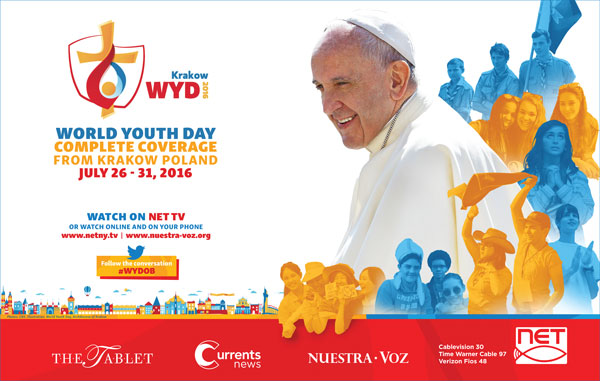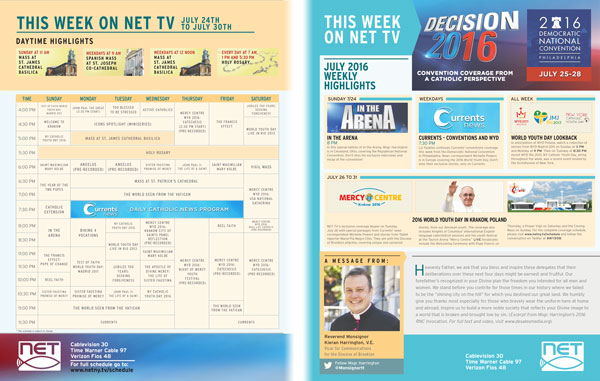 Click here for a grid view of the daily schedule for the week of 7/24/16
Click here for a grid view of the overnight schedule for the week of 7/24/16
DAILY MASS FROM THE CO-CATHEDRAL OF ST. JOSEPH
LIVE  from the Co-Cathedral of St. Joseph. Tune in daily at 8 AM for the Mass in English and at 9 AM for the Mass in Spanish (La Santa Misa).
HOLY MASS FROM THE CATHEDRAL BASILICA OF ST. JAMES
LIVE from the Cathedral Basilica of St. James. Tune in weekdays at 12 noon (encored at 5 PM) and Sundays at 11 AM.
HOLY ROSARY
On NET TV three times a day at 7 AM, 1 PM and 5:30 PM.
TeleMATER
Saturdays and Sundays at 12 Noon-1 PM
TeleMATER – the Television of the Mother – is based in New York City, and with a mission in harmony with the apostolic mission of the Catholic Church, it aims to be the Catholic Television of the Italians in America. Now on NET TV, watch TeleMATER's Italian programs every Saturday and Sunday from 12 Noon – 1 PM. The Sunday's hour is dedicated to the Angelus and Holy Mass in Italian, celebrated from Our Lady of Pompeii Church in Greenwich Village, NYC.
CURRENTS NEWS – DEMOCRATIC NATIONAL CONVENTION
Coverage from a Catholic Perspective
July 25-29 at 7:30 PM, encore at 11:30 PM
Follow the conversation all day long on Facebook and Twitter @CurrentsNY
Anchor/News Correspondent Liz Faublas continues Currents News' Decision 2016 coverage, reporting from the Wells Fargo Center in Philadelphia for the Democratic National Convention. Her scheduled exclusive interviews include:
– The Most Reverend Charles Chaput, Archbishop of Philadelphia
– Mark Shea, Administrator of Immigration Services at Catholic Social Services, Philadelphia
– Matthew Gambino, Director and General Manager of CatholicPhilly.com
– Father Paul DiGirolamo, Pastor of Old St. Mary Church, Philadelphia
– Shannon Jordan, Catholic Foundation of Greater Philadelphia
WORLD YOUTH DAY 2016
Exclusive Coverage from Poland on July 25-31
Follow the conversation on Facebook @NETTVny and Twitter @NETnyTV
Currents News Correspondent Michelle Powers and Tablet Reporter Maria-Pia Negro Chin are in Poland with the pilgrims from Brooklyn and Queens.
Don't miss their insightful reports that accompany the main coverage, which include the Welcoming Ceremony with Pope Francis, Way of the Cross and the Closing Mass. Visit this page for the daily broadcast schedule, which is subject to change. You can join in the conversation on social media with the hashtag #WYDOB! Click here for the press release.
WORLD YOUTH DAY LOOKBACK to 2011 and 2013
In anticipation of WYD Poland, watch a collection of stories from WYD Madrid 2011 on Sunday, July 24 at 3 PM and Monday, July 25 at 9 PM. Then on Tuesday, July 26 at 8:30 PM, revisit WYD Rio 2013. NY Catholic Youth Day, airing throughout the week, was a recent event hosted by the Archdiocese of New York.
WORLD YOUTH DAY MERCY CENTRE
The Knights of Columbus host the international English-language catechetical and youth festival site at World Youth Day from July 26-31. Tauron Arena, Kraków is the site of "Mercy Centre," which offers pilgrims an inspirational program of events in English as part of their World Youth Day 2016 experience in Poland. The Centre is open to all World Youth Day pilgrims and features catechetical sessions led by Vatican-assigned bishops, concerts featuring globally-renowned musicians, talks by prominent Catholic speakers, witnesses to persecution of the Church in the Middle East, and a series of exhibits and liturgical celebrations. Watch these events on NET TV, interspersed with the LIVE coverage, from Wednesday, July 27 to Sunday, July 31.