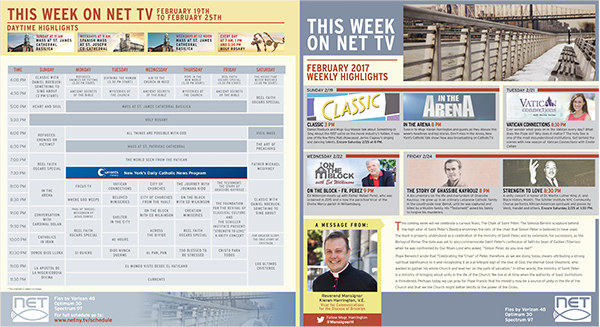 Click here for a grid view of the daily schedule for the week of 2/19/17
Click here for a grid view of the overnight schedule for the week of 2/19/17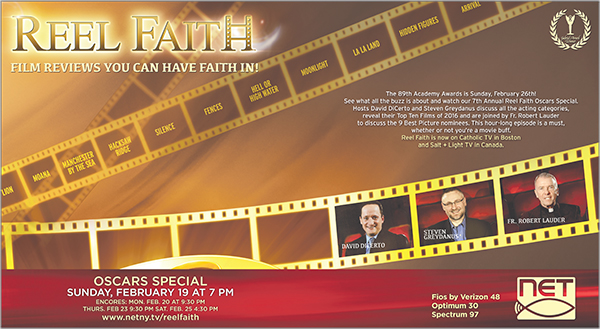 DAILY MASS FROM THE CO-CATHEDRAL OF ST. JOSEPH
LIVE from the Co-Cathedral of St. Joseph. Tune in weekdays at 8 AM for the Mass in English and at 9 AM for the Mass in Spanish (La Santa Misa).
HOLY MASS FROM THE CATHEDRAL BASILICA OF ST. JAMES
LIVE from the Cathedral Basilica of St. James. Tune in weekdays at 12 noon (encored at 5 PM) and Sundays at 11 AM.
HOLY ROSARY
On NET TV three times a day at 7 AM, 1 PM and 5:30 PM.
PAPAL AUDIENCE
Wednesdays at 2 PM and 10 PM
Weekly message of our Holy Father Pope Francis to pilgrims from around the world.
TeleMATER Italian Programming
Saturdays and Sundays at 12 Noon-1 PM
TeleMATER – the Television of the Mother – is based in New York City, and with a mission in harmony with the apostolic mission of the Catholic Church, it aims to be the Catholic Television of the Italians in America. Now on NET TV, watch TeleMATER's Italian programs every Saturday and Sunday from 12 Noon – 1 PM. The Sunday's hour is dedicated to the Angelus and Holy Mass in Italian, celebrated from Our Lady of Pompeii Church in Greenwich Village, NYC.
HISPANIC BLOCK
Every night at 10:30 PM
NET TV presents the new primetime Hispanic Block, featuring original programming such as Dios Nunca Duerme (premieres Tuesday) and conversation that reflect the diversity of the community.
EL MUNDO VISTO DESDE EL VATICANO
Weekly message of our Holy Father Pope Francis to pilgrims from around the world (en Espanol).
CRISTO PARA TODOS
Cristo Para Todos es un programa católico de televisión producido por el Departamento de Radio y Televisión de la Diócesis de Trenton en New Jersey.  El equipo del programa es un ejemplo ideal para compartir el mensaje del programa…que Cristo es para todos.
DONDE DIOS LLORA
The Spanish-language version of the weekly program "Where God Weeps" shows the suffering of Christians today, in places where the faithful cannot live their faith fully due to political, social and economic restrictions. The program presents bishops, priests, missionaries and laity who testify to the tears and needs of the Church, while giving testimony of Faith and Hope in the Lord.
REALFAITH TV
Every Saturday at 8:30 AM and 9:00 AM
From the Diocese of Trenton, Realfaith TV is a peer produced and faith driven teen talk show discussing modern issues facing young people.
WALK BY FAITH
Friday, February 24 at 11:00 AM
The show where we go beyond the image and discover who our guests really are. You may know them from TV, from the big screen, or even the world of sports, but do we really know who they are as a person? Do we know what motivates them? Do we know what inspires them? Well, that's what we're here to find out. Tune in and walk with us.
THE STORY OF GHASSIBE KAYROUZ
Friday, February 24 at 8:00 PM
A documentary on the life and martyrdom of Ghassibe Kayrouz. He grew up in an ordinary Lebanese Catholic family in the countryside near Beirut, until he was captured and killed by a Muslim family. His "Testament" asked his family to forgive his murderers.
WHERE GOD WEEPS
Monday, February 27 at 8:30 PM
Dr. Paul Bhatti, is the Former Federal Minister of National Harmony and Minorities Affairs in Pakistan. This post was previously held by his brother Shabaz Bhatti, who was assassinated in 2011. Dr. Bhatti reflex in the current reality for Christians in Pakistan.
VATICAN CONNECTIONS
Tuesday, February 28 at 8:00 PM
Ever wonder what goes on in the Vatican every day? What does the Pope do? Why does it matter? The Holy See is one of the most misunderstood institutions. Get behind the scenes with a new season of Vatican Connections with Emilie Callan.
OUT OF THE SHADOWS
Tuesday, February 28 at 8:30 PM
Dominican Father Allen White, an Oxford-trained historian and long-time denizen of the Eternal City, traces the origins of Roman Christianity from its obscure, house-church beginnings to its ultimate triumph over the imperial power. Encore Saturday 3/4 at 5 PM.
Click here for a grid view of the daily schedule for the week of 2/26/17
Click here for a grid view of the overnight schedule for the week of 2/26/17