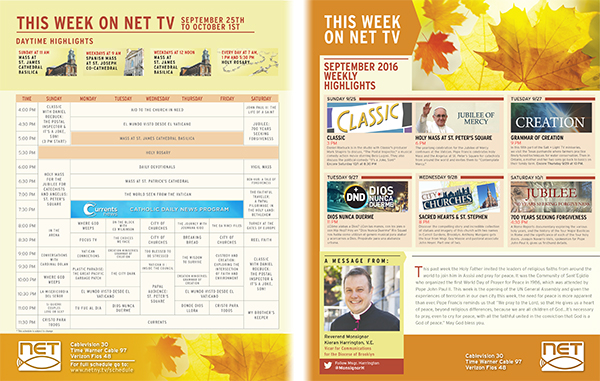 Click here for a grid view of the daily schedule for the week of 9/25/16
Click here for a grid view of the overnight schedule for the week of 9/25/16
DAILY MASS FROM THE CO-CATHEDRAL OF ST. JOSEPH
LIVE from the Co-Cathedral of St. Joseph. Tune in weekdays at 8 AM for the Mass in English and at 9 AM for the Mass in Spanish (La Santa Misa).
HOLY MASS FROM THE CATHEDRAL BASILICA OF ST. JAMES
LIVE from the Cathedral Basilica of St. James. Tune in weekdays at 12 noon (encored at 5 PM) and Sundays at 11 AM.
HOLY ROSARY
On NET TV three times a day at 7 AM, 1 PM and 5:30 PM.
PAPAL AUDIENCE
Wednesdays at 2 PM and 10 PM
Weekly message of our Holy Father Pope Francis to pilgrims from around the world.
TeleMATER Italian Programming
Saturdays and Sundays at 12 Noon-1 PM
TeleMATER – the Television of the Mother – is based in New York City, and with a mission in harmony with the apostolic mission of the Catholic Church, it aims to be the Catholic Television of the Italians in America. Now on NET TV, watch TeleMATER's Italian programs every Saturday and Sunday from 12 Noon – 1 PM. The Sunday's hour is dedicated to the Angelus and Holy Mass in Italian, celebrated from Our Lady of Pompeii Church in Greenwich Village, NYC.
HISPANIC BLOCK
Every night at 10:30 PM except Wednesdays
NET TV presents the new primetime Hispanic Block, featuring original programming such as Dios Nunca Duerme (premieres Tuesday) and conversation that reflect the diversity of the community.
EL MUNDO VISTO DESDE EL VATICANO
Weekly message of our Holy Father Pope Francis to pilgrims from around the world (en Espanol).
REALFAITH TV
Every Saturday at 8:30 AM and 9:00 AM
From the Diocese of Trenton, Realfaith TV is a peer produced and faith driven teen talk show discussing modern issues facing young people.
HOLY MASS FOR THE JUBILEE FOR CATECHISTS AND ANGELUS FROM ST. PETER'S SQUARE
Sunday, September 25 at 6:00 PM
The yearlong celebration for the Jubilee of Mercy continues at the Vatican. Pope Francis celebrates Holy Mass and the Angelus at St. Peter's Square for catechists from around the world and invites them to "Contemplate Mercy."
PLASTIC PARADISE: THE GREAT PACIFIC GARBAGE PATCH (DOCUMENTARY)
Monday, September 26 at 9:00 PM
Documentary filmmaker Angela Sun speaks with scientists and activists about what our society's vast consumption of disposable plastic is doing to our oceans, and what it may be doing to our health.
CREATION: GRAMMAR OF CREATION (MINISERIES)
Tuesday, September 27 at 9:00 PM
Encore – September 29 at 10:00 PM
In this fifth part of the Salt + Light TV miniseries, we visit the Texas panhandle where farmers practice finely-tuned techniques for water conservation. Then in Ontario, a mother and her two sons go back to basics on their family farm.
CUSTODY AND CREATION: EXPLORING THE INTERSECTION OF FAITH AND ENVIRONMENT
Friday, September 30 at 9:00 PM
NET TV" original documentary that follows experts presenting viable solutions for current environmental issues.
JUBLIE 700 YEARS SEEKING FORGIVENESS
Saturday, October 1 at 4:30 PM
A Rome Reports documentary exploring the various holy years, and the history of the four Major Basilicas in Rome and the significance of each of the four holy doors. Joaquin Navarro-Valls, spokesman for Pope John Paul II, gives us firsthand details.